Here are a few examples of our no-code projects:
 The no-code!
At NetDevicesWe are committed to and use all our expertise to develop digital media that are always more efficient.
Adapting to market conditions and the digital transformation of our company is vital for your business! For this, you must be reactive and respond immediately to your customers' new requirements and to your competitors' actions.
To put a first version of your product online, one solution: the no-code technologies.
The term nocode includes tools such as bubble.io, but also airtable, zapier, make, webflow, glide, notion ...
We handle all of them regularly to meet the different projects of our clients!
To benefit from the advantages of no-code and set up applications that see the light of day quickly and easily, the NetDevices web developer agency offers you its mastery of programming solutions and no-code development.
Discover also:  Bubble.io agency / agency Node-js / agency react-js / agency React Native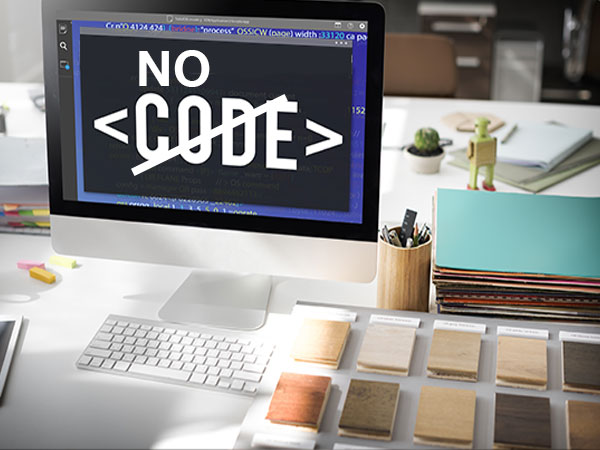 What is no-code and what are its advantages?
Create a website, a application web or mobile requires expert skills, especially in coding and programming languages. Depending on the nature of your business structure, you may have difficulty mobilizing the resources needed to develop your digital platform.
To meet these constraints for our customers, the no-code agency NetDevices in Paris puts at your disposal the functionalities of various nocode technologies such as bubble.io, webflow, integromat (make), airtable, zapier... to optimize your processes and the design time of your digital media.
In contrast to the JavaScript programming language, there is no need to master coding to develop mobile apps or websites with no-code software, which offers many advantages:
Easier to handle
If you don't have the in-house resources to maintain your applications, no-code offers easier access to website, app or CRM development even in the absence of advanced technical skills.
Reducing your development costs
No need to set up a team of developers and face the financial resources that this represents. With the nocode solutions proposed by the agency NetDevices, you reduce your development costs while keeping the possibility of acting for more performing applications in a faster way.
Better tool agility
In the digital world, changes in the various markets can be lightning fast and require a high level of reactivity with regard to the services offered to your customers. A nocode solution allows you to adapt in real time thanks to simple and easy to use integrated modeling tools.
Saving time
To be present faster in a market sector is essential if you want to remain competitive in the race to digital transformation. All the nocode solutions that we provide allow you to save time in the development of your digital products.
Perfect flexibility
When you use a manual coding and programming solution, it is often complicated or even blocking to change any functionality.
With nocode, these constraints disappear and you can modify what you want or entrust it to your web agency to do it quickly and easily.
Why call on a no-code agency to develop your mobile applications?
If you're still wondering why you should go no-code and enlist the help of our agency NetDevices, here's something to reinforce your conviction and encourage you to take the plunge:
Acceleration of IT processes
A no-code solution enables in-house or agency developers to design applications without the need for specific developer skills, thereby lightening the workload, reducing the resources required and, ultimately, improving development speed.
Products and applications quickly brought to market
Visual editors, ready-to-use code snippets, integrated connectors and a host of other functions are just some of the features that enable no-code technology to create and deploy digital tools and media more quickly.
A controlled digital transformation
Today's societal challenges require companies to know how to constantly adapt to new consumption patterns and new habits. They must constantly rethink their strategies and work to create infrastructures that provide concrete, effective and efficient responses to their customers.
No-code enables this ongoing digital transformation process, giving companies the flexibility and responsiveness they need to stay ahead of the competition.
Enhanced security
Threat assessment, access control, securing administrator tools, data confidentiality - system security is a major challenge that no-code technology enables you to meet, thanks to the ability to configure and monitor this systemic security. Do you need a application to optimize your customer feedback, to quickly set up an MVP or to call on an agency specialized in no-code solutions to interact yourself on your apps and websites?
Optimize your product launch and benefit from a reduced time to market by choosing theexpertise NetDevices in no-code development.
Contact us and experience the added value of your company's know-how no-code agency NetDevices for your company!
How can NetDevices help you with your application design/creation projects?
The working process of our no-code agency takes place in several key stages that are specific to the methodology and customer approach we wish to maintain:
Needs analysis and project definition
NetDevices begins by analyzing your needs and objectives. This involves a series of meetings or interviews to understand your business, your expectations and the functionalities you want to integrate into your system. your application or website. This phase enables the experts at our nocode agency to clearly define the project and propose a development plan tailored to your requirements.
Selecting NoCode tools and platforms
Based on your requirements, we select the NoCode tools and platforms best suited to your project. This selection is crucial, as it has a direct impact on the performance, flexibility and scalability of your project. future application. Our developers are familiar with several platforms, including Bubble, Webflow, airtable, or glide, which allows us to choose the best solution for each situation.
Design & prototyping
Our agency creates a customized design and creates a prototype of your application or website. This stage involves designing the user interface (UI) and user experience (UX), taking into account best practices and current trends. The prototype serves as a basis for discussing adjustments and improvements before moving on to the development phase.
No-code development
Once the prototype has been approved, we can begin the NoCode development phase. Our developers use the selected tools and platforms to build theapplication or website according to the specifications defined in the previous stages. They configure the necessary functionalities, workflows and integrations without having to write code, using the features of the no-code platform.
Testing and validation
NetDevices carries out rigorous tests to ensure thatapplication or the website functions correctly on different devices and browsers. We identify and correct any bugs or performance problems. This step is crucial to guarantee the quality and reliability of your project.
Launch and support
Once theapplication or website has been validated, our team will launch it and put it online. We also provide technical support and assistance with maintenance and future updates. This ongoing support means you can concentrate on growing your business, safe in the knowledge that your no-code project is in the hands of our experts.