Quelques exemples de projets conçus en no-code par notre agence :
 Le no-code !
At NetDevicesWe are committed to and use all our expertise to develop digital media that are always more efficient.
Adapting to market conditions and the digital transformation of our company is vital for your business! For this, you must be reactive and respond immediately to your customers' new requirements and to your competitors' actions.
To put a first version of your product online, one solution: the technologies no-code.
On retrouve sous le terme nocode les outils tels que bubble.io, mais aussi airtable, zapier, make, webflow, glide, notion …
We handle all of them regularly to meet the different projects of our clients!
Pour bénéficier des avantages du no-code et mettre en place des applications qui voient le jour rapidement et facilement, l'agence NetDevices agence web développeur vous propose sa maîtrise des solutions de programmation et de développement no-code.
Discover also:  agence Bubble.io / agence Node-js / agence react-js / agence React Native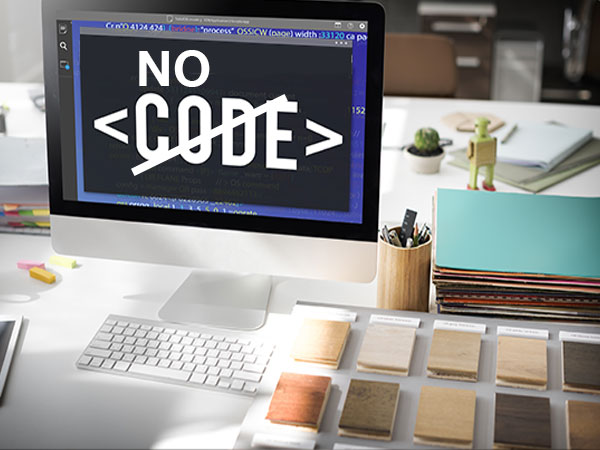 Qu'est ce que le no-code et quels sont ses avantages ?
Create a website, a application web or mobile requires expert skills, especially in coding and programming languages. Depending on the nature of your business structure, you may have difficulty mobilizing the resources needed to develop your digital platform.
Pour répondre à ces contraintes chez nos clients, l'agence no-code NetDevices à Paris met à votre disposition les fonctionnalités de diverses technologies nocode tels que bubble.io, webflow, integromat (make), airtable, zapier … pour optimiser vos process et le temps de conception de vos supports digitaux.
En opposition au langage de programmation JavaScript, nul besoin de maîtriser le codage pour développer des applis mobiles ou des sites web avec les logiciels no-code qui présentent de nombreux avantages :
Easier to handle
Si vous ne possédez pas les ressources en interne pour maintenir vos applications, le no-code propose un accès plus aisé au développement de sites web, d'apps ou de CRM même en absence de compétences techniques avancées.
Reducing your development costs
No need to set up a team of developers and face the financial resources that this represents. With the nocode solutions proposed by the agency NetDevices, you reduce your development costs while keeping the possibility of acting for more performing applications in a faster way.
Better tool agility
In the digital world, changes in the various markets can be lightning fast and require a high level of reactivity with regard to the services offered to your customers. A nocode solution allows you to adapt in real time thanks to simple and easy to use integrated modeling tools.
Saving time
To be present faster in a market sector is essential if you want to remain competitive in the race to digital transformation. All the nocode solutions that we provide allow you to save time in the development of your digital products.
Perfect flexibility
When you use a manual coding and programming solution, it is often complicated or even blocking to change any functionality.
With nocode, these constraints disappear and you can modify what you want or entrust it to your web agency to do it quickly and easily.
Pourquoi faire appel à une agence no-code pour le développement de vos applications mobiles ?
Si vous vous demandez encore quelles sont les raisons qui doivent vous conduire vers le no-code et de vous faire accompagner par l'expertise de notre agence NetDevices, voici de quoi renforcer votre conviction et vous pousser à franchir le pas :
Acceleration of IT processes
Une solution no-code permet aux développeurs en interne ou en agence de concevoir des applications sans recourir aux compétences de développeurs spécifiques ce qui permet d'alléger la charge de travail, de réduire les ressources nécessaires et, in fine, d'améliorer la rapidité du développement.
Products and applications quickly brought to market
Des éditeurs visuels, des extraits de code prêt à être utilisés ou encore des connecteurs intégrés parmi de nombreuses autres fonctionnalités, voici ce qui permet à la technologie no-code de créer et de déployer plus rapidement des outils et supports digitaux.
A controlled digital transformation
Today's societal challenges require companies to know how to constantly adapt to new consumption patterns and new habits. They must constantly rethink their strategies and work to create infrastructures that provide concrete, effective and efficient responses to their customers.
Le no-code autorise cette démarche de transformation digitale permanente en permettant aux entreprises une grande réactivité et flexibilité dans leur process pour conserver leur avance sur leurs concurrents.
Enhanced security
Évaluation des menaces, contrôles des accès, sécurisation des outils administrateurs, confidentialité des données, la sécurité des systèmes est un enjeu majeur auquel la technologie no-code vous permet de répondre grâce à la possibilité de configurer et de surveiller cette sécurité systémique. Vous avez besoin d'une application pour optimiser votre retour client, de mettre rapidement en place un MVP ou de faire appel à une agence spécialisée en solution no-code pour interagir vous-même sur vos applis et sites web ?
Optimize your product launch and benefit from a reduced time to market by choosing theexpertise NetDevices dans le développement no-code.
Contact us and experience the added value of your company's know-how agence no-code NetDevices for your company!
Comment l'agence NetDevices vous accompagne pour vos projets de conception / création d'applications ?
Le processus de travail de notre agence no-code se déroule en plusieurs étapes clés qui sont propres à la méthodologie et à l'approche client que nous souhaitons conserver :
Analyse des besoins et définition du projet
NetDevices commence par analyser vos besoins et vos objectifs. Cela implique une série de réunions ou d'entretiens pour comprendre votre entreprise, vos attentes et les fonctionnalités que vous souhaitez intégrer dans votre application ou site web. Cette phase permet aux experts de notre agence nocode de définir clairement le projet et de proposer un plan de développement adapté à vos exigences.
Sélection des outils et plateformes NoCode
En fonction des besoins exprimés, nous sélectionnons les outils et plateformes NoCode les plus appropriés pour votre projet. Cette sélection est cruciale car elle impacte directement les performances, la flexibilité et l'évolutivité de votre future application. Nos développeurs sont  familiarisés avec plusieurs plateformes telles que Bubble, Webflow, airtable, ou glide, ce qui nous permet de choisir la solution la mieux adaptée à chaque situation.
Conception & prototypage
Notre agence crée un design personnalisé et réalise un prototype de votre application ou site web. Cette étape implique la conception de l'interface utilisateur (UI) et de l'expérience utilisateur (UX), en tenant compte des meilleures pratiques et des tendances actuelles. Le prototype sert de base pour discuter des ajustements et des améliorations avant de passer à la phase de développement.
Développement no-code
Une fois le prototype approuvé, nous sommes alors en mesure d'entamer la phase de développement NoCode. Nos développeurs utilisent les outils et plateformes sélectionnés pour construire l'application ou le site web en respectant les spécifications définies lors des étapes précédentes. Ils configurent les fonctionnalités, les workflows et les intégrations nécessaires sans avoir à écrire de code, en utilisant les fonctionnalités de la plateforme no-code.
Tests et validation
NetDevices procède à des tests rigoureux pour vérifier que l'application ou le site web fonctionne correctement sur différents appareils et navigateurs. Nous identifions et corrigeons les éventuels bugs ou problèmes de performance. Cette étape est cruciale pour garantir la qualité et la fiabilité de votre projet.
Lancement et support
Après avoir validé l'application ou le site web, notre équipe procède au lancement et à la mise en ligne. Nous vous fournissons également un support technique et une assistance pour la maintenance et les mises à jour futures. Ce support continu vous permet de vous concentrer sur la croissance de votre entreprise tout en sachant que votre projet no-code est entre les mains de nos experts.