Description of the project

The producer-merchant relationship reinvented.
NectarGo is a digital tool that allows producers and merchants to work better and directly for a more local and sustainable food. It is a application which gathers a community of local partners, reinforced by a support team close to you.
NectarGo allows you to manage your direct orders at once and very simply, optimize store deliveries and simplify your administrative procedures.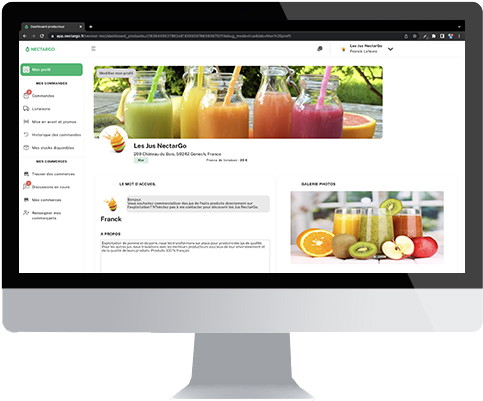 Intervention NetDevices
Development and evolution of the platform.
Technologies
Développé en No code avec Bubble et en JS
En savoir plus sur l'outil No code Bubble
Le client à choisi de développer son application avec Bubble. C'est une plateforme de programmation No-code et Low-code créée en 2012.
Elle permet de créer des applications web et des applications mobiles sans coder assez rapidement d'où le choix du client pour cet outil.
On peut créer des applications de prise de rendez-vous, des sites e-commerces, des marketplaces et bien d'autres.
Bubble permet de créer le design de votre produit en utilisant une fonctionnalité drag and drop qui permet de positionner des composants visuel (formulaire, bouton, image…). Les workflows permettent de gérer les fonctionnalités d'un back-end et la gestion des données accessible en temps réel.
Bubble offre également d'autres fonctionnalités. Elle permet de mettre en place des dashboards et des automatisations si vous souhaitez créer des projets en interne.