Examples of projects realized by the team NetDevices with Bubble
Learn more about Bubble
In the age of digitalization, the presence of your company on the web and on cell phones is essential to your growth. To do so, you need a clean, dynamic and powerful application if you want to convince new customers or break into new markets.
Our bubble agency NetDevices uses the most common design solutions of the moment such as the bubble.io platform which allows us to offer you the implementation of projects of all sizes.
At your side, we work to develop your web applicationsWe will advise you on the options for realization and bring your project to life as you have imagined it.
Discover also : Nocode agency / agency NodeJS / agency react JS / agency React native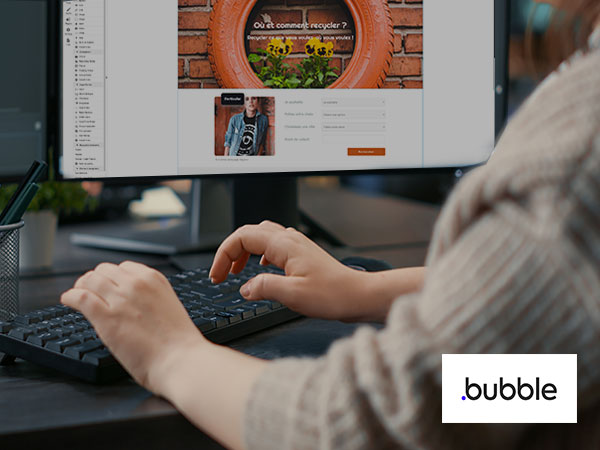 What is Bubble.io?
Bubble is a programming platform which allows us to develop web applications of all kinds, even the most complex, without having to type a single line of code.
A nocode tool which has its own database so that our developers don't have to worry about the software architecture and can focus on what our customers care about: the user experience offered to the end users.
With NetDevices, your Bubble agencyYou open the door to a custom creation of a application web that is resolutely dynamic.
You dream of putting your own marketplace online? You want to create an innovative mobile application ? The developers and designers of NetDevices accompany you to imagine, create and launch the app of your dreams!
What are the advantages of using a bubble expert agency to create your apps?
Our mastery of the Bubble solution allows you to access applications with high added value for your users, to save time in the design phase and to launch your projects in a better timeframe.
A web application created with BubbleWith a web site, you can take advantage of a large number of functionalities designed for complete and easy-to-use solutions (CMS, emailing, setting up a database, payment solutions, user management, data protection...).
Among the main benefits of using the Bubble platform by your agency NetDevices :
Not having to code and being able to customize your development, two essential criteria that make Bubble a way to simplify the creation of apps and web programs.
The easy handling of Bubble by our developers allows to mutualize the skills by the accessibility to the platform and to your project by all the participants. An asset to optimize the development and creation process.
A great aplomb in the design phase
The platform's ability to support deployment and web hosting allows a product to be launched in a minimum of time.
Make no mistake, if NetDevices has chosen Bubble to develop your web and mobile applicationsThe main reason for this is to respond to our desire to be responsive and precise in the support we offer our customers and in the development of applications with a strong dimension UX.
Why use NetDevices to integrate Bubble?
It is a real expertise in the development of nocode which is accessible to you with NetDevices which proposes to you to put at your service its competences Bubble.
No matter how large or small your web and mobile projectsIt is our primary vocation to accompany you in the realization of your objectives.
Choosing NetDevices means using the strength of Bubble.io's Nocode, which allows you to stay ahead of your competitors and boost your business with innovations that place you in the future of web and mobile communication.
Trusting the Bubble developers at NetDevices gives you the peace of mind of knowing that your investment and your project are in the hands of recognized experts.
Joining the multidisciplinary skills of our agency Bubble, is the opportunity of a web project completed in optimal time and at lower cost.
Contacting the agency NetDevices means you are relieved of the burden of deploying technologies and technical innovation so that you can concentrate on developing your project and attracting new customers.
Our team of developers and designers as well as our technical project managers have mastered all the functionalities of the Bubble programming platform.
Our expert agency bubble.io NetDevices guarantees the creation of powerful and dynamic applications, entirely custom designed in full respect of your requirements and specifications.
We assure you a personalized result and delivered in the best delays as well as a complete accompaniment from the beginnings of the feasibility study until the finalization of your web or mobile project.