Some examples of projects designed with Bubble.io by our agency:
Bubble.io!
At NetDevicesWe are committed to and use all our expertise to develop digital media that are always more efficient.
In the age of digitalization, the presence of your company on the web and on cell phones is essential to your growth. To do so, you need a clean, dynamic and powerful application if you want to convince new customers or break into new markets.
Our agency bubble.io NetDevices uses the most common design solutions of the moment, such as the bubble.io platform which allows us to offer you the implementation of projects of all sizes.
At your side, we work to develop your web applicationsWe will advise you on the options for realization and bring your project to life as you have imagined it.
Discover also : no-code agency / agency node.js / agency react.js / agency React Native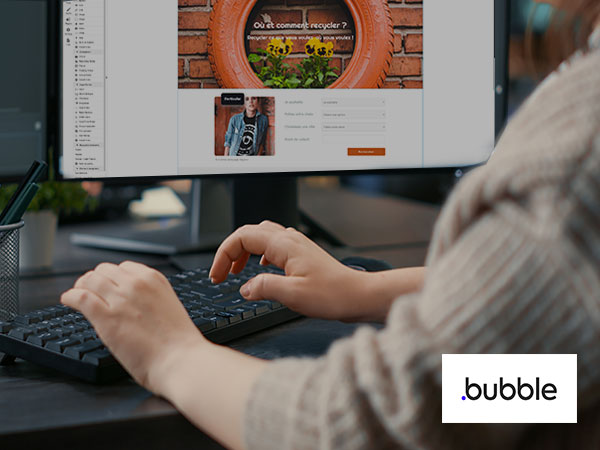 What is Bubble.io?
Bubble.io is a programming platform which allows us to develop web applications of all kinds, even the most complex, without having to type a single line of code.
A no-code tool which has its own database so that our developers don't have to worry about the software architecture and can focus on what our customers care about: the user experience offered to the end users.
With NetDevices, your Bubble agency, you open the door to the creation of a tailor-made application web site that is resolutely dynamic.
Do you dream of launching your own online marketplace? Would you like to create an innovative application mobile app? NetDevices 's developers and designers can help you imagine, create and launch the app of your dreams!
Why choose an expert Bubble.io agency for your application projects? What are the advantages?
Our mastery of the Bubble.io solution allows you to access applications with high added value for your users, to save time in the design phase and to launch your projects in a better timeframe.
A web application created with Bubble.ioWith a web site, you can take advantage of a large number of functionalities designed for complete and easy-to-use solutions (CMS, emailing, setting up a database, payment solutions, user management, data protection...).
Among the main benefits of using the Bubble platform by your agency NetDevices :
The no-code function
No coding and the ability to customize your development: two essential criteria that make Bubble.io an easy way to create apps and web programs.
Great ease of use
Our developers' easy access to Bubble.io enables them to pool their skills by making the platform and your project accessible to all those involved. This optimizes the development and creation process.
A great aplomb in the design phase
The platform's ability to support deployment and web hosting allows a product to be launched in a minimum of time.
Make no mistake, if NetDevices has chosen Bubble.io to develop your web and mobile applicationsThe main reason for this is to respond to our desire to be responsive and precise in the support we offer our customers and in the development of applications with a strong dimension UX.
How does NetDevices handle Bubble.io integration?
With NetDevices , you have access to real expertise in no-code development, and we can put our skills to work for you. Bubble.io.
No matter how large or small your web and mobile projectsIt is our primary vocation to accompany you in the realization of your objectives.
Choosing NetDevices means using the strength of Bubble.io's Nocode, which allows you to stay ahead of your competitors and boost your business with innovations that place you in the future of web and mobile communication.
Putting your trust in the Bubble.io developers at NetDevices gives you peace of mind in the knowledge that your investment and your project are in the hands of recognized experts.
Joining forces with the multi-disciplinary skills of our Bubble.io agency gives you the opportunity to complete your web project in the shortest possible time and at the lowest possible cost.
Contacting the agency NetDevices means you are relieved of the burden of deploying technologies and technical innovation so that you can concentrate on developing your project and attracting new customers.
Our team of developers and designers as well as our technical project managers have mastered all the functionalities of the Bubble.io programming platform.
Our expert agency Bubble.io NetDevices  guarantees the creation of powerful and dynamic applications, entirely custom designed in full respect of your requirements and specifications.
We assure you a personalized result and delivered in the best delays as well as a complete accompaniment from the beginnings of the feasibility study until the finalization of your web or mobile project.
Bubble.io solution: the benefits of a revolutionary tool for designing/creating your web applications
The Bubble.io solution is a visual development platform which allows users to create customized applications without having to write a single line of code.
No programming skills required
One of Bubble's main advantages is that it requires no programming skills to create applications. Thanks to its intuitive drag-and-drop interface, you can easily add elements, create workflows and define actions without having to write a single line of code.
Customization and flexibility
The Bubble.io solution offers easy customization and unrivalled flexibility when it comes to creating applications. Through its extensive library of plugins and integrations, it's easy to add extra functionality to your application, such as connection to social networks, online payments and push notifications. What's more, Bubble.io lets you create fully responsive applications that adapt to all types of device, guaranteeing an optimal user experience.
Collaboration and sharing
Bubble.io encourages dynamic interaction by allowing multiple users to work simultaneously on the same project. You can easily share your projects with team members or customers, inviting them to modify or give feedback in real time. This facilitates communication, reduces misunderstandings and results in a higher quality end product.
Easy updates and maintenance
Finally, Bubble.io makes it easy to update and maintain your application. Since you can make changes directly in Bubble.io's visual editor, it's easy to update your application without having to navigate complex lines of code. What's more, Bubble automatically handles compatibility issues between browsers and devices, saving you the hassle of technical maintenance.
With NetDevicesyou benefit from Bubble.io solution which offers numerous advantages for your company and your collaborators in their quest to create customized applications without the constraints associated with traditional development. Thanks to its intuitive interface, extensive customization and ease of collaboration, Bubble.io is a must-have solution for the creating high-performance applications.
Combined with the know-how and expertise of NetDevices's team of developers and designers, the Bubble.io programming platform enables you to create ergonomic, powerful, dynamic and highly responsive applications.
Make your choice Bubble.io with NetDevices if you're aiming for excellence!