Description of the project

Since 1999, Host Broadcast Services (HBS)  offre son expertise pour livrer le son et les images des plus prestigieux événements sportifs du monde entier. HBS accompagne les organisateurs et les diffuseurs pour optimiser la diffusion et valoriser les droits des médias avec une fiabilité sans faille.
 Pour une ligue majeure de sport, HBS assure la conformité des captations de matchs opérés par les diffuseurs.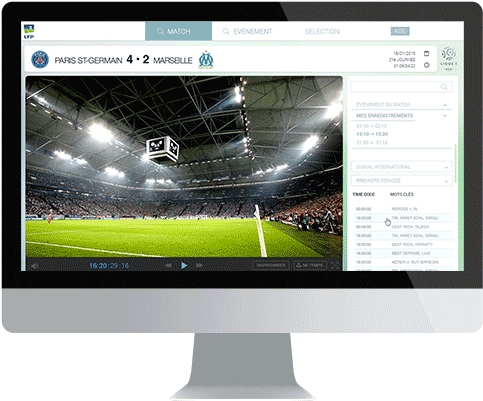 Intervention NetDevices
UX/UIdevelopment, deployment, integration with back video (globecast).
LFP platform features
Pour ce projet dont les utilisateurs sont les clubs de la Ligue de Foot, nous mettons en place une plateforme offrant aux détenteurs de droits l'accès aux flux Live des compétitions ainsi qu'à leurs archives, le tout disponible avec différents angles de prise de vue.  La plateforme permet d'enrichir les vidéos de tags qui permettent à l'utilisateur de rechercher des moments particuliers et de télécharger les segments vidéos liés.
Technologies
NodeJS, Angular, VideoJS, Dash, CasperJS, PhantomJS, MochaJS, OVH, AWS