Description of the project

Sinolytics a souhaité mettre en place une application web de validation et gestion des obligations réglementaires pour ses clients installés en Chine. Le projet permet de récolter toutes les informations nécessaires auprès des clients sur le statut vis-à-vis de chaque aspect des lois sur les douanes, l'environnement, les règles sanitaires, etc.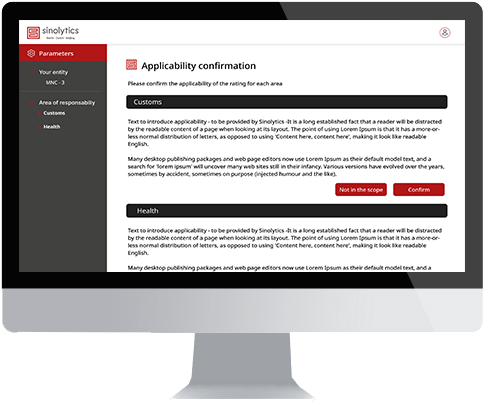 Technologies NetDevices
Le design du projet a été réalisé avec Figma et développement avec la solution Nocode Bubble.
En savoir plus sur l'outil No code Bubble
Le client à choisi de développer son application avec Bubble. C'est une plateforme de programmation No-code et Low-code créée en 2012.
Elle permet de créer des applications web et des applications mobiles sans coder assez rapidement d'où le choix du client pour cet outil.
On peut créer des applications de prise de rendez-vous, des sites e-commerces, des marketplaces et bien d'autres.
Bubble permet de créer le design de votre produit en utilisant une fonctionnalité drag and drop qui permet de positionner des composants visuel (formulaire, bouton, image…). Les workflows permettent de gérer les fonctionnalités d'un back-end et la gestion des données accessible en temps réel.
Bubble offre également d'autres fonctionnalités. Elle permet de mettre en place des dashboards et des automatisations si vous souhaitez créer des projets en interne.